Models4tradeshows.com
For exhibitors that demand professional, reliable and dynamic booth staff.
Hire The Best Trade Show Models and Promotional Models
A trade show model is hired to draw traffic to an exhibitor's booth to scan badges, discuss products and network with trade show attendees. The best models are energetic, fast learners with great personalities.  A promotional model is hired to represent a product, service or brand. These models are skilled at drawing in crowds, interacting with customers and generating leads.
Trade Show Staffing Made Easy
What is a trade show model? A trade show model is a promotional model that works conventions and trade shows.  They are generally independent contractors that are hired to answer general brand questions, register guests or manage a trade show booth.  Event staffing agencies make finding trade show staffing simple and easy.
Find Jobs As A Promotional Model or Brand Ambassador
Vantage Advertising is looking for attractive, outgoing and reliable models. If you're an experienced promo girl sign up today.
An Elite Brand Ambassador Staffing Agency
Vantage Advertising is a trade show staffing and promotional modeling agency .  For nearly a decade, the company has provided trade show models, promo models and booth staff to exhibitors across the United States. As the nation's leading event staffing agency, they know that communication and engagement are paramount to the success of any event.  No matter how big or small you are, or what industries or sectors you do business, Vantage can provide the event models you need.
Find Talented Models For Hire Near You
We staff models for trade shows and every other type of marketing event.
Hire a trade show model to attract customers to a booth, promote products or engage with attendees while they wait to speak with sales staff. A fully staffed trade show booth can be the difference between having attendees walk by or signing up as a new lead.
Promotional models are hired to drive consumer demand for a product, service, brand or concept by interacting with potential customers. These models have personal contact with prospects and are skilled at creating interest in the product they are representing.
Booth hostesses are attractive and outgoing customer service reps that are hired to meet and greet visitors, draw in trade show traffic and scan badges. This type of trade show staff can support your team by registering guests and answer general brand questions.
A First-Rate Brand Ambassador Staffing Agency
With over 10,000 trade show models that can draw in booth traffic, interact with customers and generate leads.
Top 20 Event Staffing Locations In The United States
As the nations largest promotional models event staffing provider, there isn't a location where we can't find promo staff.  These cities are our primary trade show staffing locations.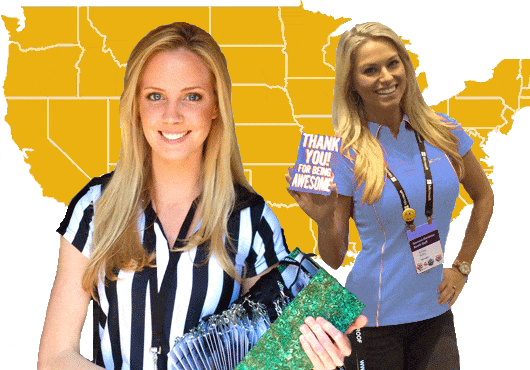 Getting Started As A Promo Girl
Jump Start Your Career
Join One Of The Fastest Growing  Modeling Agencies In The Country